Chaîne Contribution to the HORECA Industry
Chers Consœurs et Confrères,

During our last Board meeting, we have decided that we would like to find a way to support the HORECA industry via our professional members during these difficult times when they have been forced to close their venues. Whereas our first and foremost concern has of course been the health of our members and their families, we are also very much aware of the financial difficulties faced by our fellow colleagues in the restaurant and hotel industries.

Thus, since our limited resources inhibit us from significantly support all of them, the Board has approved a sole contribution of one thousand euros (€1.000,00) to a randomly chosen professional member that does represent a physical establishment.

Under the supervision of three (3) of our Board members, we have ran the random selection process among the list of establishments as shown in Appendix I. Kindly note that we have adjusted the list to avoid duplications in those cases where we had more than one representative for an establishment/group.

It is then a for me an honour to represent the Board in awarding a small and yet heartful contribution to our member:

Maître Restaurateur Thijs Duindam

Van Restaurant Soester Duinen

Herein, the Chaîne des Rôtisseurs des Pays Bas formally awards you €1.000,-.

In The Netherlands, May 28, 2020.
Vive la Chaîne!

Siebe Stellingwerff Beintema
Baili Délégué a.i.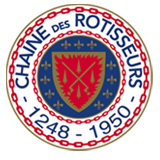 ​​​​​​​